5 Sure-Fire Ways for Finding Peace in the Storm
Articles may contain affiliate links. This means that if you purchase an item from my links, I may earn affiliate commission at no extra cost to you. As an Amazon Associate I earn from qualifying purchases.
All Scripture references come from the King James Version of the Holy Bible (KJV)."
What does the Bible say about storms in our life?
"Into each life some rain must fall," is a famous quote by Henry Wadsworth Longfellow. But I don't know of anyone who hasn't struggled through dark clouds or major storms. Do you?
While nobody really looks forward to the trials of life, they serve an important purpose. That is, tribulations help us grow. And if you're a child of God, they help you grow closer to Him and help you grow spiritually.
But the key to success during the hard times, is in finding peace in the storm. We're going to unlock 5 ways for finding that peace, so keep reading. But first, let's look at what the book of James says about those trials.
James 1:2-4 My brethren, count it all joy when ye fall into divers temptations; Knowing this, that the trying of your faith worketh patience. But let patience have her perfect work, that ye may be perfect and entire, wanting nothing.
That's right, my friend. When we are tried, we learn patience, which leads us toward spiritual maturity. But where is God in the midst of the storm? Does He cause our troubles?
Does God cause storms in our lives?
No, God doesn't cause every stubbed toe, car accident or cancer diagnosis. He's not a puppet master that directs every step we take. If that were the case, we wouldn't have free will.
However, He does allow trials and tribulations to happen. Our faith grows during those times. Think about it. We can read every book of the Bible and learn how all the Bible characters responded to their challenges. Those stories help grow our faith a little bit, and they set the example of how to get through.
But when we are in the midst of the storm, we take what we've learned in Scripture, gain strength by leaning on and trusting the Lord, pray for guidance and from Him, we seek peace in the midst of chaos.
What does Jesus say about peace?
You can't think about Jesus in the midst of the storm and learning how to have peace in your life, without the story of Jesus calming the storm in the book of Mark. Let's take a look.
Mark 4:35‭-‬41 And the same day, when the even was come, he saith unto them, Let us pass over unto the other side. And when they had sent away the multitude, they took him even as he was in the ship. And there were also with him other little ships. And there arose a great storm of wind, and the waves beat into the ship, so that it was now full. And he was in the hinder part of the ship, asleep on a pillow: and they awake him, and say unto him, Master, carest thou not that we perish? And he arose, and rebuked the wind, and said unto the sea, Peace, be still. And the wind ceased, and there was a great calm. And he said unto them, Why are ye so fearful? how is it that ye have no faith? And they feared exceedingly, and said one to another, What manner of man is this, that even the wind and the sea obey him?
Peace, be still
I want to address two statements that Jesus made. First, "Peace, be still." Jesus literally calmed the sea. This wasn't only for the ship He and his disciples were in. It was the Sea of Galilee, which as I understand was 13 miles long by 8 miles wide. There were plenty of other boats on that sea.
The storm was so great and the waves so big, the ship was taking on water. Plus we're talking about professional fishermen. Yet they thought they were "perishing." These men were still learning about putting their faith over their fear. Jesus, weary and tired, slept through it. But it wasn't until the call of His disciples, did He awake. They called and He answered.
And with three simple words, our Savior caused peace in the midst of the storm.
It wasn't the storm that woke him. It wasn't the waves crashing over the sides of the ship. It was the voice of His disciples. Lord, save us (Matthew 8:25.) That's all it really takes. We simple have to ask for help, believing that God has the power to calm our worries and fears to provide peace in the storm.
Jesus can provide the rest we need. Just like He could calm the sea, He has the power to provide peace in our lives…if we let Him.
How is it that ye have no faith?
This is the second statement that I want to address. Do you have the faith to hand your struggles over to the Lord so that you too, can find peace with Jesus in the midst of the storm? The disciples lived with Jesus. They knew, I mean really KNEW that Jesus was God. Yet, they thought it was possible that He could perish with them in the boat. Seems crazy, doesn't it?
While, we never walked the shores of Galilee with Jesus or personally witnessed His miracles, or His death on the cross and resurrection from the grave. But God's Word, the Holy Bible tells us that He did. Jesus IS the Word.
If we believe what the Bible tells us and have believed in our heart, and confessed with our mouth that God has raised Him from the dead, we shall be saved. Therefore, if you trust Jesus enough for your eternal salvation, why is it so hard to trust Jesus in the midst of the storm? Crazy, right?
Romans 10:9 That if thou shalt confess with thy mouth the Lord Jesus, and shalt believe in thine heart that God hath raised him from the dead, thou shalt be saved.
Be sure to read the rest of that section in Romans here, because it talks about belief, confession and salvation.
God is not only willing and able to calm the storms in our lives, but to bring us peace through even the worst imaginable obstacles you can imagine. #peaceinthestorm #Godisable
Click To Tweet
Examples of finding peace in the storm
Faith is essential for finding peace in the storm. I get it, though. It's easy to forget that God is willing and able to not only calm the storms in our lives, when we're distracted with daily living. But He is also able to bring us peace through even the worst imaginable obstacles you can imagine.
Consider Corrie ten Boom and her family who saved nearly 800 Jews by helping them escape the Nazi Holocaust. Her strong faith guided her actions and gave her peace through imprisonment in the concentration camp. You can read her story of faith, hope and love and how she found peace with God in the midst of the storm in her book, The Hiding Place.
You can also get her story in this video below.
My own life has had its share of critical ups and downs. I survived a serious cancer diagnosis in my 30's only to have an even bigger unimaginable health crisis in my 40's where a flesh-eating bacteria put me in a coma for three weeks with a zero percent chance of survival.
Yet through the immense belief of my family and the fervent prayers of people nationwide, I survived. Today, I share my story of faith, hope and positivity, now as a quadruple amputee, as doctors had to amputate my hands and feet in order to save my life. This blog is truly about finding peace in the storm and bouncing back to create a joyful life.
What does the bible say about peace in the midst of a storm?
I couldn't do any better justice to this question, than to turn to God's Word to get it straight from the source. First things first, be sure you have a great study Bible to help you dig into the Scriptures. From there, you need a great place to start. Here are some great peace in the midst of the storm Scriptures.
John 16:33 These things I have spoken unto you, that in me ye might have peace. In the world ye shall have tribulation: but be of good cheer; I have overcome the world.
Isaiah 9:6 For unto us a child is born, unto us a son is given: and the government shall be upon his shoulder: and his name shall be called Wonderful, Counsellor, The mighty God, The everlasting Father, The Prince of Peace.
Romans 8:6 For to be carnally minded is death; but to be spiritually minded is life and peace.
Through Jesus, we can have peace through any and all struggles. We just have to call on Him and believe. But as you know, to be spiritually minded means staying in the will of God and producing fruit of the spirit. It's not snapping your fingers and using Jesus as your magic genie.
In the midst of the storm meaning
According to Dictionary.com, the word midst is defined as "the middle point, part or stage." They define a storm as "a disturbance of the normal condition of the atmosphere, manifesting itself by winds of unusual force or direction, often accompanied by rain, snow, hail, thunder, and lightning, or flying sand or dust."
But in our lives we typically define "in the midst of the storm" as a disturbance that hits us right where it hurts, in the middle of our lives. Sure, every day we have struggles. Someone ate the last bowl of cereal or we accidentally threw a red shirt in with our white pants while doing the wash. There's no doubt, that Jesus can calm those situations too.
But it's in the major storms of life where the rubber meets the pavement. This is where you find out how much you allow Jesus access to help you. So often we try to work things out ourselves. I think because of our sin nature, it's the natural first place we start. But it doesn't have to be that way.
How can Praying Through the Storms of Life help?
In this blog post, I've shared several "peace in the midst of the storm" Bible verses. But wouldn't it be great to have a 30-day plan to help comfort you when times are tough?
Introducing Praying Through the Storms of Life Bible Study and Prayer Journal.
This Bible Study Printable and Prayer Journal offers 62 pages of Bible study worksheets, prayer pages, Scripture cards and coloring pages to create a beautiful binder to grow your faith. It contains:
30 days of Bible Study worksheets, following the SOAP Bible Study method. SOAP is the acronym for Scripture, Observation, Application, and Prayer. You'll get complete instructions as well as an example page.
30 Scripture Cards that match the the Bible Study
How to find peace in the midst of the storm
I have found that there are 5 ways for finding peace in the storm. While they seem simple, that's only the case if we let go and let God take over. So let's consider the best ways for finding peace in every storm.
A personal relationship with Jesus Christ
If you haven't fully trusted Jesus with your soul, you need to start there. For the plan of salvation check how to grow your faith in God. From there, follow Him in baptism and church membership in a true New Testament church. Reading your Bible, listening the God's Word preached and learning from other Christians are steps in growing spiritually.
This free checklist is great for simple daily habits for getting closer to God. Grab it below.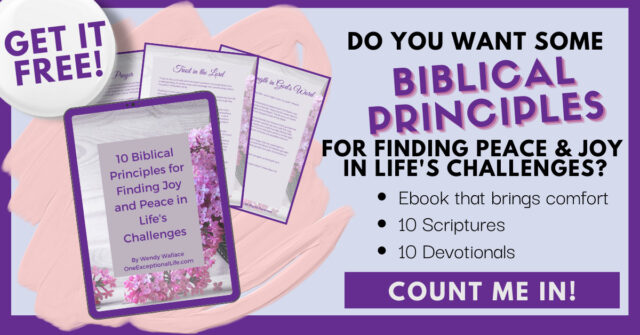 Trust and faith
What is faith? Well, according to the book of Hebrews, chapter 11, faith is a willingness to trust in what you cannot see. The entire chapter gives us examples of faith and how lives were changed by putting their trust in God.
Hebrews 11:1 Now faith is the substance of things hoped for, the evidence of things not seen.
My favorite go-to peace in the midst of the storm Scripture comes from the book of Proverbs. I'm sure you know where I'm heading here, because it seems it's everyone else's favorite too. But let's read it anyway.
Proverbs 3:5-6 Trust in the Lord with all thine heart; and lean not unto thine own understanding. In all thy ways acknowledge him, and he shall direct thy paths.
This Scripture was part of the first prayer I made when I woke up in the hospital after my coma, missing both hands and both feet. It got me through my entire healing process.
It reminded me that I could trust the Lord. I didn't need to try and figure things out on my own. By acknowledging Him in every single thing, He would guide my way. Where else could I find peace in the storm I was dealing with?
Without those steps, it's hard to fully commit to turning our biggest storms over to God.
Are you a woman who wants to rediscover God's joy and peace amid the trials of life? Come join our Facebook Group —
Women Living Exceptionally, with Joy and Jesus
, a space to cultivate more faith, joy, peace, resilience, & community.
Prayer
Without asking, how can we receive? Oh sure, God knows our needs before we ask. But He wants a relationship with us. He wants us to ask. He wants our gratitude and our love. The greatest commandment is to love God above all else.
Matthew 22:39 And the second is like unto it, Thou shalt love thy neighbour as thyself.
Philippians 4:6-7 Be careful for nothing; but in every thing by prayer and supplication with thanksgiving let your requests be made known unto God. And the peace of God, which passeth all understanding, shall keep your hearts and minds through Christ Jesus.
Think about it. If you struggle with peace, have you brought God in to help you or are you struggling against God in the midst of the storm, trying to handle things all by yourself? Don't leave God out. Don't forget who He is and what He is able to do. Seek out His promises of comfort, and you'll find that peace you're so desperately seeking. 
Whenever you're feeling anxious about the storms in your life, open your Bible and study out one of His promises. Grab some great Scriptures in this post. #findingpeaceinthestorm #Godspromisesaretrue
Click To Tweet
Look to the Promises of God
The Bible is God's guidebook for our daily living. If we're going to live successfully for Him, we should know how. So He gives us the Old Testament, where we learn the laws for worship and daily living God made for the Israelites. We also learn about God's promises for them, including the promise of a Savior that would come.
With the New Testament, we meet the Savior for all of mankind. He was born of a virgin, led a sinless life, and was nailed to the cross, along with the Old Testament law. His death was the substitution for the sins of all of mankind and part of God's eternal purpose to redeem us. Christ's shed blood prevents believers from eternal damnation.
This is just the beginning of the promises of God. While I can't find an exact number. It's pretty safe to say that most folks agree that there are over 7000 promises of God in the Bible.
Why is this important? Because God's Word is true and faithful. And if He says something like these promises in John and Matthew, we can rest assured that we truly can have peace in the storm.
John 14:27 Peace I leave with you, my peace I give unto you: not as the world giveth, give I unto you. Let not your heart be troubled, neither let it be afraid.
Matthew 11:28-30 Come unto me, all ye that labour and are heavy laden, and I will give you rest. Take my yoke upon you, and learn of me; for I am meek and lowly in heart: and ye shall find rest unto your souls. For my yoke is easy, and my burden is light.
Yes, there are many, many other promises. While these Scriptures pertain to peace in the midst of the storm, God promises love, mercy, guidance, eternal life, peace, joy, hope and so many thousands more. So whenever you're feeling anxious about the storms in your life, open your Bible and study one of His promises. It will give you comfort, no matter what type of challenge you're facing.
To dig deeper into the promises of God, I went through an incredible free challenge recently that absolutely thrilled my heart. I know you'll love it too.
Count your blessings
I suppose it wouldn't be a blog post on One Exceptional Life without talking about gratitude.  I truly believe that any time worry or stress enters your life, you need to go back to counting your blessings. After all, all blessings come from God.
James 1:17 Every good gift and every perfect gift is from above, and cometh down from the Father of lights, with whom is no variableness, neither shadow of turning.
By keeping a daily journal of answered prayers and things you're thankful for, you have a great place to refer back to when struggles occur and you're seeking peace in the midst of chaos.
Gratitude is also just one more reason to pray to our Heavenly Father. He wants a relationship with us. Plus, the more open your line of communication is, the more peace you'll find.
1 Thessalonians 5:18 In every thing give thanks: for this is the will of God in Christ Jesus concerning you.
Peace in the midst of the storm Bible verses
As we wrap up here, I want to leave you with some additional Scriptures about peace in the midst of the storm. Enjoy!
Isaiah 54:10 For the mountains shall depart, and the hills be removed; but my kindness shall not depart from thee, neither shall the covenant of my peace be removed, saith the Lord that hath mercy on thee.
Isaiah 43:2 When thou passest through the waters, I will be with thee; and through the rivers, they shall not overflow thee: when thou walkest through the fire, thou shalt not be burned; neither shall the flame kindle upon thee.
Isaiah 26:3 Thou wilt keep him in perfect peace, whose mind is stayed on thee: because he trusteth in thee.
Philippians 4:8-9 Finally, brethren, whatsoever things are true, whatsoever things are honest, whatsoever things are just, whatsoever things are pure, whatsoever things are lovely, whatsoever things are of good report; if there be any virtue, and if there be any praise, think on these things. Those things, which ye have both learned, and received, and heard, and seen in me, do: and the God of peace shall be with you.
Isaiah 41:10 Fear thou not; for I am with thee: be not dismayed; for I am thy God: I will strengthen thee; yea, I will help thee; yea, I will uphold thee with the right hand of my righteousness.
1 Peter 5:7 Casting all your care upon him; for he careth for you.
I pray that you have found a better understanding of how to find peace with God in the midst of the storm. For additional help, be sure to grab your beautiful Bible study and prayer journal, Praying through the Storms of Life.
What is your favorite way for finding peace in the storm?
Similar Posts: