16 Powerful Bible Verses About Faith and Trust
Articles may contain affiliate links. This means that if you purchase an item from my links, I may earn affiliate commission at no extra cost to you. As an Amazon Associate I earn from qualifying purchases.
All Scripture references come from the King James Version of the Holy Bible (KJV)."
Faith is a necessary ingredient in the life of a Christian.  But what is faith and why do we need it? In these 16 powerful Bible verses about faith and trust, you will receive some pretty sound Biblical guidelines to answer that question, and more.
What is Faith?
The biblical definition of faith comes from Hebrews 11:1 KJV which says "Now faith is the substance of things hoped for, the evidence of things not seen."  Basically, that means that even though we cannot see or touch something, we just know it exists. Take God, for example. We cannot see Him, but the evidence of His existence is everywhere.  
Genesis 1:1 KJV tells us "In the beginning God created the heaven and the earth."  So because we can see the results of God's creation, we can know that He exists. Faith is believing that God was the one who created this earth.  We can see and touch evidence of the planet, and we trust that God is our creator. Because although there are other theories on how the earth came to be, the only logical theory is that it was created by God.  
In all honesty, I could try and reason faith all day long. But my best explanation is if you look at Genesis 1:1 and Hebrews 11:1, we see the evidence of God, through creation, therefore He exists.  Period! That's faith, my friends.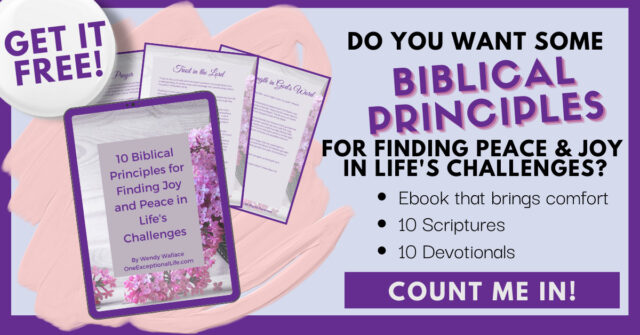 God's Inspired Word 
The Bible is God's written manual.  2 Timothy 3:16-17 KJV says "All scripture is given by inspiration of God, and is profitable for doctrine, for reproof, for correction, for instruction in righteousness:  That the man of God may be perfect, thoroughly furnished unto all good works."  
God's inspired Word means that approximately 40 people wrote the Bible over a period of 1500 years.  Each writer was inspired directly by God. The entire Bible harmonizes and there are no errors. It is God's instruction manual.  I say all of this because you're about to read more Scriptures on faith and trust in God.  
You may also look to the great example of David and Goliath.  Heather from Lessons from Home wrote a great post using David's example, called How to Overcome Self-Doubt with Faith.  When you read the passages from 2 Samuel 17, you see an incredible example of how faith works. 
Without Faith, it is Impossible to Please God
Hebrews 11:6
"But without faith it is impossible to please him: for he that cometh to God must believe that he is, and that he is a rewarder of them that diligently seek him."  If you cannot believe God, you'll never believe in His Son, Jesus Christ, who is the Savior of the world. Faith in Jesus is necessary for salvation from eternal damnation in Hell, after we die.  
John 3:16 
"For God so loved the world, that he gave his only begotten Son, that whosoever believeth in him should not perish, but have everlasting life."
Romans 10:9-10
"That if thou shalt confess with thy mouth the Lord Jesus, and shalt believe in thine heart that God hath raised him from the dead, thou shalt be saved.  For with the heart man believeth unto righteousness; and with the mouth confession is made unto salvation."
For further information on salvation, check out the Roman Road found in How to Grow your Faith in God. 
Bible Verses about Faith and Trust

 
James 1:6
"But let him ask in faith, nothing wavering. For he that wavereth is like a wave of the sea driven with the wind and tossed."  This verse talks about faith in prayer, which is conversation with God.
1 John 5:4
"For whatsoever is born of God overcometh the world: and this is the victory that overcometh the world, even our faith."
Romans 1:17
"For therein is the righteousness of God revealed from faith to faith: as it is written, The just shall live by faith."  
1 Corinthians 13:13
"And now abideth faith, hope, charity, these three; but the greatest of these is charity."  
Hebrews 12:2
"Looking unto Jesus the author and finisher of our faith; who for the joy that was set before him endured the cross, despising the shame, and is set down at the right hand of the throne of God."
Matthew 17:20
"And Jesus said unto them, Because of your unbelief: for verily I say unto you, If ye have faith as a grain of mustard seed, ye shall say unto this mountain, Remove hence to yonder place; and it shall remove; and nothing shall be impossible unto you."
Ephesians 2:8-9
"For by grace are ye saved through faith; and that not of yourselves: it is the gift of God: Not of works, lest any man should boast."
Bible Verses about Trust
Proverbs 3:5-6
"Trust in the Lord with all thine heart; and lean not unto thine own understanding.  In all thy ways acknowledge him, and he shall direct thy paths."  If you've read my blog or any of my social media posts before, you might have heard me say that this is my favorite scripture.  I call these verses to memory any time I struggle, because it reminds me that if I simply turn to the Lord, and follow Him, He will guide me.  
Psalm 56:3
"What time I am afraid, I will trust in thee."  I can trust Him when I'm uncertain or scared and He will guide me.
Matthew 6:26
"Behold the fowls of the air: for they sow not, neither do they reap, nor gather into barns; yet your heavenly Father feedeth them. Are ye not much better than they?"
Proverbs 29:25
"The fear of man bringeth a snare: but whoso putteth his trust in the Lord shall be safe."
Psalm 118:8
"It is better to trust in the Lord than to put confidence in man.
Thoughts about Faith and Trust from my Blogging Friends
10 Scriptures of Protection is a post from Erin at Lullaby Lark who shares the scriptures of protection that helped her during the time that her infant son was hospitalized in the NICU after his birth.  I know you'll find some comfort there.
Angie at Resounding His Love has an entire Bible verses library that includes Bible Verses About…6 different categories, including Scriptures on faith and trust in God.  Click the link to choose which category you want to search for, then get lost even further in God's Word.
I hope that you found great courage and reminders in these 16 Bible verses about faith and trust.  God is fully capable of getting us through every struggle we may face in life. We just have to remember that and put our faith and trust in Him.  The best way to do that is to bow our heads in prayer. Talk to God, through His Son, Jesus. Praise Him and thank Him. 
Philippians 4:6-7
"Be careful for nothing; but in every thing by prayer and supplication
with thanksgiving let your requests be made known unto God.  And the peace of God, which passeth all understanding, shall keep your hearts and minds through Christ Jesus."
Similar Posts: