Welcome to The Shop at One Exceptional Life
Make yourself at home, my beautiful friend. Here, you will find products that you can only get here, at One Exceptional Life. Eventually, you will find items that I use and love. Since this shop is new, it's a work in progress. New products will be added frequently, so check back often.
Praying Through the Storms of Life Bible Study & Prayer Journal
This Bible study guide is a Christian bundle designed to dig into Scripture using the SOAP acronym. The Bible verses provided will help you dig into the promises of God, so that you can feel confident that He is exactly who you need when the storms of life come. 62 pages of Bible study worksheets, prayer and note pages, Scripture cards and coloring pages. Grow a stronger faith, which allows you to cling to God during every struggle you face.
Cultivate a Grateful Heart Gratitude Bundle
This 30 day printable gratitude bundle offers everything you need to help you grow your gratitude habit. Includes thorough journaling & planner pages, idea prompts, coloring gratitude cards, challenge tracker, artwork & more.
How to Get Closer to God Spiritually Ebook
Connecting with God is simple. It's a simple matter of including Him in your life. Here, you'll find, 15 daily habits for spiritual growth, as well as 30 additional ideas for connecting with God, all in one Ebook.
Getting Closer to God Checklist Bundle
Learn and implement the following with this Christian bundle:
The TOP ways to serve the Lord (during every single part of your day,) the simplest activities that will help you become the hands and feet of Jesus (and how you can be a lighthouse for Him!) And how you can grow your faith while everyone else is struggling (it's never too late to find practical strategies to bring you closer to God!)
Cultivate a Grateful Heart 7-Day Gratitude Journal (Free)
Grab your free 7-day Gratitude Journal to jump start your gratitude habit. It contains space for writing your daily blessings, a prayer point, a Scripture, space for answered prayers and notes. Also includes 6 Scripture cards which are great for memorization.
Getting Closer to God Checklist (Free)
Are you seeking activities for bringing more Jesus into your everyday life? There's no more wondering about the activities that you can do to grow your relationship. Grab your free checklist here.
Faith Over Fear: Finding Peace in the Storms of Life
Faith Over Fear is a bigger, badder version of the Joyful Living Toolbox, that includes topical Bible Studies of Fear, Faith and Peace.
This Christian bundle contains 78 Pages of colorful printables ready for you to create a beautiful binder focused on faith over fear, through Bible resources, prayer, gratitude and kindness.
Blessings Jar Kit
Blessings jars are a fun way to document the things that you're thankful for. Pay attention to the things that make you smile throughout the day, and write them down on a blessings card.
Then, decide how often you want to dump the jar out to count your blessings. When you do this, you might just realize that God's blessings really are big enough to overcome any struggle in your life. Beautiful gratitude bundle that adds fun to your gratitude habit.
If you need encouragement, ideas for positive thinking, help in your spiritual life, and reminders that it's more important to focus on the positive than the negative, then the Joyful Living Toolbox is perfect for you.
70 Pages of colorful printables ready for you to create a beautiful gratitude, prayer & kindness binder all packaged together in one Christian bundle. Enjoy!
Victory Over Affliction is an inspirational digital ebook, to help you through any challenge that you may be facing! 30-days of inspiration to boost your day when you're feeling personal limitations.
This is your own personal cheerleader to remind you that whatever your obstacle is, you can get through it, joyfully and successfully.
Printable Christian Wall Art Display of Faith, Hope and Love offers 3 beautiful prints with Scriptures from the KJV Bible, Hebrews 11:1, Isaiah 40:31, and John 3:16, They will bring joy, positivity & encouragment to your home.
Welcome to the One Exceptional Life Etsy Shop, where you'll find the products on this page and MORE! Be sure to "heart" me as one of your favorite shops. Check there often for sales and new products.
Would you rather have individual mini Christian bundles instead of the complete Joyful Living Toolbox? Well, now you can pick and choose the categories you prefer.
Joyful Living Through Gratitude
Joyful Living Through Gratitude offers everything you need to boost your gratitude habit. Gratitude journal printables include journaling pages, idea prompts and more.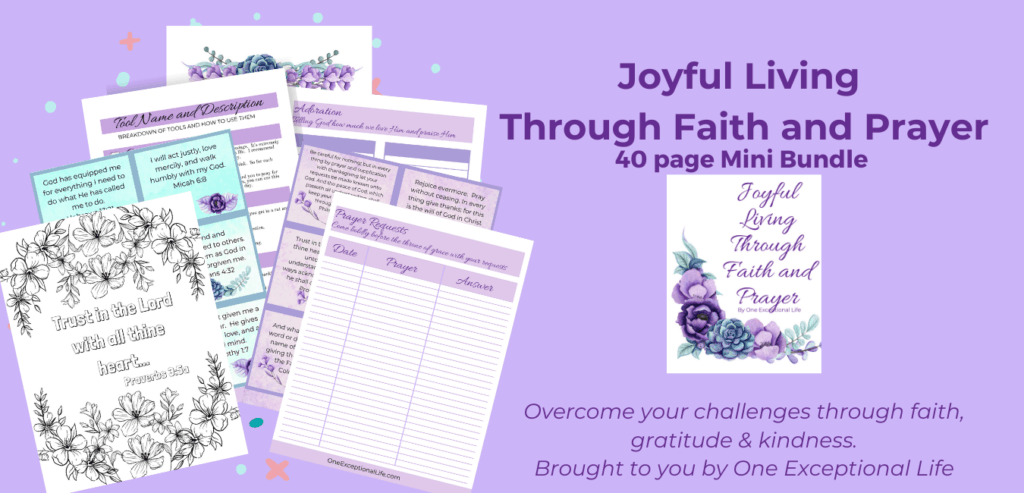 Joyful Living Through Faith
and Prayer
Joyful Living Through Faith and Prayer offers prayer binder resources for your spiritual growth? Printable scripture cards, scripture coloring pages, and more…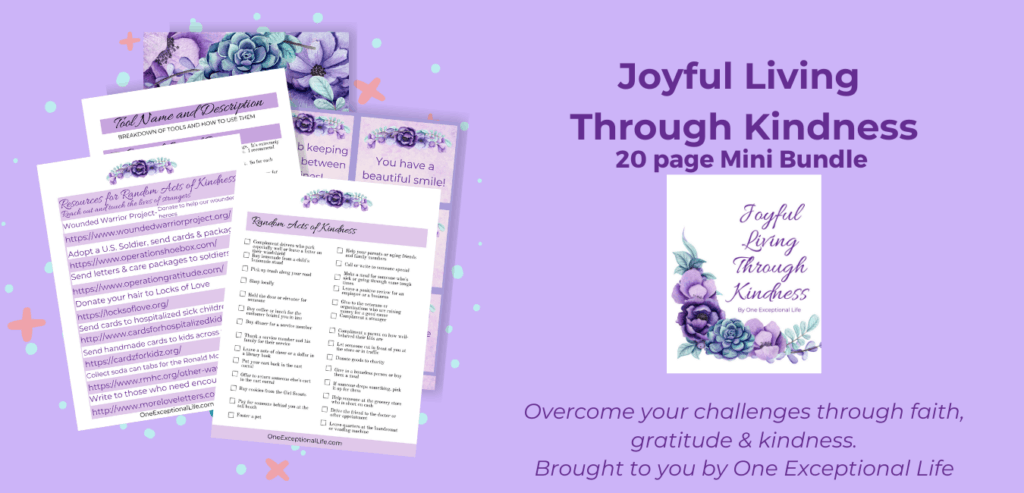 Joyful Living Through Kindness
The Joyful Living Through Kindness bundle offers a variety of tools, including printable kindness ideas, compliment cards, Jesus loves you cards and much more.
Joyful Living Through Art
The Joyful Living Through Art mini bundle offers tools to help you relax, like printable Scripture coloring pages, and inspirational art.
One Exceptional Life content (posts or pages) may contain affiliate links.
One Exceptional Life is a participant in the Amazon Services LLC Associates Program, an affiliate advertising program designed to provide a means for sites to earn advertising fees by advertising and linking to Amazon.com.
Click here for our full Disclosure Statement.