16 Powerful Bible Verses about Overcoming Struggles in Life
Articles may contain affiliate links. This means that if you purchase an item from my links, I may earn affiliate commission at no extra cost to you. As an Amazon Associate I earn from qualifying purchases.
All Scripture references come from the King James Version of the Holy Bible (KJV)."
What does the Bible say about overcoming struggles?
Everybody struggles in their life. It doesn't matter if you're dealing with cancer or illness, losing your job, marital difficulties or simply having a bad day, we all struggle.
As a quad amputee woman, I've had my share of challenges. My method of coping is through prayer and searching the Word of God for scriptures that resonate with my situation. In this post, I'll be sharing with you 16 Bible verses about overcoming struggles in life. These scriptures have been instrumental in getting me through some pretty tough times.
Let's dive right in with my recommendations for the best Bible verses about trials and struggles and how I use Scripture when the tough times hit. While you're at it, grab your free PDF The 5 Step Guide for Unlocking Peace in the Midst of Chaos. Grab it below.⤵️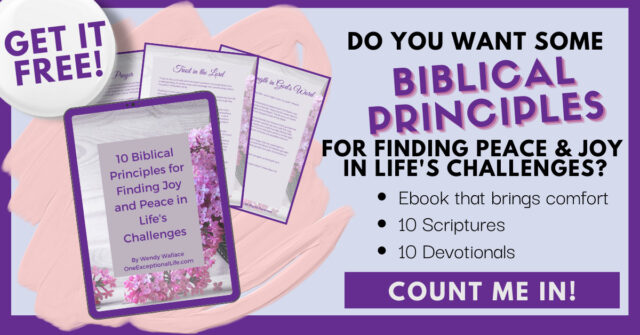 How to use scripture to help you overcome adversity
I believe that the Bible offers comfort and guidance. God tells us to expect trials and tribulations in this life. The good news is that we don't have to go through them alone. If you wonder what God says about overcoming obstacles, keep reading because He says a lot.
There are many, many examples of struggles in the Bible. However, through faith in God and the belief that "all things work together for good to them who love God, to them who are the called according to His purpose," Roman's 8:28 KJV, we can trust that whatever we go through is for our good and for the glory of God.
What I do when I am working through the struggles in my life is to go to God in prayer. I ask Him to increase my faith, and I recite one of these verses. The Bible offers so many Bible verses about overcoming life struggles. I've merely scratched the surface with these 16 scriptures.
By focusing on scripture and the promises He has given us, I know that everything will turn out okay. That doesn't mean that I won't struggle and that it won't hurt. It simply means that by leaning on the Lord, He will give me the strength, faith, and courage that I need to get through it all. If you struggle with faith, head over to How to Grow Your Faith in God for some guidelines. You may also enjoy How to Get Closer to God Spiritually.
Of course, we can't grow and learn if we don't study. I have found some great Bible studies. I love Praying the Promises of God and Bible Study Methods: 7 Ways in 7 Days, which I'll elaborate on because it really is that good. Whatever you do, just seek the Lord with an open mind, and listen. He will lead you if you let Him.
If you want to study God's Word, to learn and grow a closer walk with Him, but you don't know where to begin or how to do it, here is an incredible resource for you!

Bible Study Methods is a step-by-step course on HOW to study God's Word. It's a 7-day online course that includes 7 training videos, a workbook, and step-by-step printable worksheets for each method.
This 7-day course will:
Teach you 7 different Bible study methods
Simplify the process of learning to make it easy to break God's Word down for easy understanding
Give you tools for going deep into God's Word in as little as ten minutes a day (perfect for busy women like us!)
Offer ready-made templates and printables so you can choose from the method that you learn best with
Show you exactly how to work through each method with the daily videos
Help you discover fresh intimacy with God while you immerse yourself in the Scriptures
Teach you how to develop your spiritual awareness
Help you establish a strong, regular Bible study habit!
Plus, you can start anytime, go at your own pace and you'll have lifetime access to the course materials.
If you've ever wished you could dig deep into the Word of God and get more from your Bible reading, Bible Study Methods: 7 Ways in 7 Days is for you.
Related Post: 7 Powerful and Effective Keys to Spiritual Growth
What does God say about overcoming obstacles?
There's no doubt, that the Bible is full of Bible verses about struggle and perseverance. As followers of Jesus, we will struggle with trials and tribulations. If Jesus had to endure them, so do we. But God equips us to overcome obstacles. If He leads us to it, He'll lead us through it.
1 Peter 2:21 KJV "For even hereunto were ye called: because Christ also suffered for us, leaving us an example, that ye should follow his steps:"
God helps us overcome obstacles
1 Peter 5:7 KJV "Casting all your care upon him; for he careth for you."
What a great promise from God! We don't have to carry our burdens alone. Isn't that a beautiful relief? I used to tell my kids when they were little to give their problems to Jesus and He will help them get over them. How do you help a child understand that? I would tell them to imagine putting their problems in a box, then physically handing that box over to Jesus.
Let Jesus take your worries away. My children understood that and it really did calm their fears because they trusted that Jesus was able. Don't you just love that childlike faith? For adults too though, it's as simple as that. We just tend to overcomplicate it.
Isaiah 41:13 "For I the Lord thy God will hold thy right hand, saying unto thee, Fear not; I will help thee."
When God tells you to fear not, believe him. Of course, in order to believe Him, you need to have faith. Remember what Hebrews 11:1 tells us about faith. "Now faith is the substance of things hoped for, the evidence of things not seen."
You cannot see or touch God, you just know He's there. For me, when I need a reminder, I simply look out the window. How can you not have belief when you see the flowers, trees, mountains, lakes and streams? God created all of it.
Proverbs 3:5-6 "Trust in the Lord with all thine heart; and lean not unto thine own understanding. In all thy ways acknowledge him, and he shall direct thy paths."
This verse has always been my favorite go-to for every situation where I am hurt, scared, or uncertain. It tells me that if I trust Him in all things, whether or not I understand them, He will guide me.
Psalm 56:3 "What time I am afraid, I will trust in thee."
God, the supreme ruler of the universe is in charge. He knows all things, sees all things, and understands all things. Faith is a simple thing, yet it can be complicated as well. But for me, I simply choose to believe. God is in control. When I am afraid, I trust Him. If I have to go through pain and suffering in my life, then I know God will guide me and help me. These Bible verses about overcoming obstacles in life will always be the best place to start when life starts getting hard.
If my suffering ends in death, then I know that I will live forever with Jesus in Heaven in a glorified body where there is no more pain and suffering. I just know it. I know that my family would be okay because they trust the Lord too. That's faith, my friends! My prayer for you is that you can find that faith as well.
When you're ready to dig deeper and want to tap into some tools that will help you as you struggle in overcoming the obstacles in your life, I have the perfect tool for you. Faith Over Fear is for women who are struggling with fulfillment and happiness in their life, who are looking for reminders that through faith, gratitude, and kindness, you can overcome anything, especially fear. It's a great tool to help you put your focus on what can and does work, rather than focusing on the negative side of things.
Are you a woman who wants to rediscover God's joy and peace amid the trials of life? Come join our Facebook Group —
Women Living Exceptionally, with Joy and Jesus
, a space to cultivate more faith, joy, peace, resilience, & community.
Perseverance builds character
Roman's 5:3-5 "And not only so, but we glory in tribulations also: knowing that tribulation worketh patience; And patience, experience; and experience, hope: And hope maketh not ashamed; because the love of God is shed abroad in our hearts by the Holy Ghost which is given unto us."
Nobody really likes tribulations. But if you see the value of those tribulations, it has a calming effect. I know of many people who pray for patience, but if you understand that patience comes through tribulation, I don't recommend that particular request of God. But patience brings experience and experience brings hope. We could all use more hope in our lives.
Overcoming limitations in the Bible
Philippians 4:13 "I can do all things through Christ which strengtheneth me."
This verse comes after the Apostle Paul is talking to the Philippians about being content in whatever state he is in. In verse 12 he states "I know both how to be abased, and I know how to abound: every where and in all things I am instructed both to be full and to be hungry, both to abound and to suffer need."
The Matthew Henry Commentary through Biblehub.com states "Through Christ we have grace to do what is good, and through him we must expect the reward; and as we have all things by him, let us do all things for him, and to his glory."
Many people use Philippians 4:13 for being able to do anything they want because Christ will help them do it, but we can clearly see that there's more to it than that.
Yes, God allows trials, and for good reason
James 1:12 "Blessed is the man that endureth temptation: for when he is tried, he shall receive the crown of life, which the Lord hath promised to them that love him."
Not everyone who suffers through overcoming struggles in life will receive the crown of life. Only those who are tried for the sake of Christ are worthy. We are not talking about willingly sinning and suffering as a result. This refers to suffering because you are carrying out the will of God and are persecuted as a result.
Roman's 8:28 "And we know that all things work together for good to them that love God, to them who are the called according to his purpose."
This is such a comforting verse for me. What this tells me is that no matter what I go through, as His child, God has a plan that all things will work out for my good.
I also know that my tribulations are for His glory. How wonderful is that? But who are "the called according to His purpose"? I think that's referring to those who are following the will of God. How do you know? Are you a born-again believer, baptized into a true New Testament church? Do you have unrepentant sin in your life? Make things right with God and you will qualify. Learn the steps to salvation here.
Bible verses about overcoming obstacles
Psalm 118:6 "The Lord is on my side; I will not fear: what can man do unto me?"
The world we're living in today is filled with hate and violence. Satan has done a great job turning people against each other. But guess what my beautiful friends?! The Lord is still on our side.
In spite of what mankind can do to you, call on Him to give you the strength, faith, and courage to get you through and if you believe He will, He absolutely will. Don't let the negativity and hatred of this world get you down. Look to Jesus, who gave His life as a ransom for your sins. Let Him comfort you and help you in overcoming struggles in life.
John 16:33 "These things I have spoken unto you, that in me ye might have peace. In the world ye shall have tribulation: but be of good cheer; I have overcome the world."
Yes, my sweet friend, Jesus has overcome the painful death on the cross at Calvary. Jesus was buried for 3 days and then He was resurrected. He overcame so that we can have everlasting life forever with Him in Glory if we accept Him as our Savior. Our peace comes from the saving grace of God through Jesus.
Doesn't it comfort you to know that Jesus has overcome so that we can too? I love that peace! I'm comforted by that peace in times of overwhelming pain and fear. I hope that you can find that same peace too. By seeking your guidance from the Word of God and tapping into any of these Bible verses about overcoming struggles in life, you'll do great. These are just a few. The Bible is full of scriptures and stories of men and women who leaned on the Lord while overcoming hardships.
Bible verses about trials and struggles
1 John 4:4 "Ye are of God, little children, and have overcome them: because greater is he that is in you, than he that is in the world."
When we keep our eyes on the one true God, we will prevail. When we focus on the world and speak worldly things, we are not of God, we're serving other gods in that respect. Which will you choose? Joshua 24:15 speaks of serving other gods when he says "but as for me and my house, we will serve the Lord." I agree!
Psalm 27:1 "The Lord is my light and my salvation; whom shall I fear? the Lord is the strength of my life; of whom shall I be afraid?"
Are you still afraid after reading all of these scriptures? Bow your head right now and pray for strength. Ask the Lord to comfort you in times of fear. Then let go and let God. Feel the peace that passes all understanding. Let that peace flow!
Roman's 8:17-18 "And if children, then heirs; heirs of God, and joint-heirs with Christ; if so be that we suffer with him, that we may be also glorified together. For I reckon that the sufferings of this present time are not worthy to be compared with the glory which shall be revealed in us."
Do you understand what that means? As a born-again child of God, we are adopted into His family. God is our father and we are joint-heirs with our Savior, Jesus Christ. How absolutely wonderful is that?
So then if we suffer as Christians, we will be glorified together with Christ. And all of the sufferings that we go through here on this earth will be absolutely nothing in comparison to the glory we will live through in Heaven one day. The pain and suffering won't matter. It's kind of like comparing a stubbed toe to an amputation. There's really no comparison.
Need some tips for getting closer to God? Grab your checklist below. ⤵️
Does God put obstacles in our way?
No, I don't believe that God puts stumbling blocks in our way, but He does allow them to happen. Our trials are like a refining fire that brings us closer to Jesus. That's why it is necessary to express gratitude for the struggles we face in life. Again, they're for our good and for the glory of the Lord.
James 1:2-4 "My brethren, count it all joy when ye fall into divers temptations; Knowing this, that the trying of your faith worketh patience. But let patience have her perfect work, that ye may be perfect and entire, wanting nothing."
As you are put through trials and temptations, when you follow God's guidance and direction, your patience will be perfected. Basically, this means that you'll learn to have more and more patience.
Ultimately, this will lead you to become a mature Christian who has all that she needs to face life. Nobody likes tribulation, but we now can welcome it when we can see its purpose.
1 Peter 5:10 "But the God of all grace, who hath called us unto his eternal glory by Christ Jesus, after that ye have suffered a while, make you perfect, stablish, strengthen, settle you."
Our struggles are meant to bring us closer to the Lord. If you want to be perfect, established, strong, and settled in the Lord, then glory in your tribulations.
Joshua 1:9 "Have not I commanded thee? Be strong and of a good courage; be not afraid, neither be thou dismayed: for the Lord thy God is with thee whithersoever thou goest."
We've talked a lot about trials, suffering, and what the Bible says about overcoming struggles. The bottom line is that we have nothing to fear because the Lord is with us, all day, every day. By trusting Him with our lives, and putting our faith in Him, He will see us through the highs and lows in our lives. That is such a comfort to me. I am so thankful for my salvation and the relationship that I have with my Savior.
There you have it, my beautiful friend, 16 blessed and God-inspired Bible verses about overcoming challenges in life. I believe that any time you face adversity, the first place you should go is to our Lord.
How can the Praying Through the Storms of Life Bible Study and Prayer Journal help?
Are you ready to fully surrender the struggles in your life that you've been holding onto so that God can do what HE does best? Praying Through the Storms of Life Bible Study and Prayer Journal is the perfect tool.
This 62-page study journal provides a list of Scriptures to study out and pray through. These Scriptures will give you the confidence that our great God is completely able to handle your obstacles if you'll simply trust Him. Using the SOAP study method, you can work through these Bible Verses about overcoming challenges, one by one.
You'll also find Scripture cards and coloring pages with additional Bible verses about life struggles to solidify your understanding of God's role in your obstacles. This beautiful printable bundle was designed to remind you that GOD'S GOT THIS!! Hint: For deep savings, there's a great offer when you request the Overcoming Struggles Scripture cards or 5 Step Guide to Unlocking Peace in the Midst of Chaos, right here.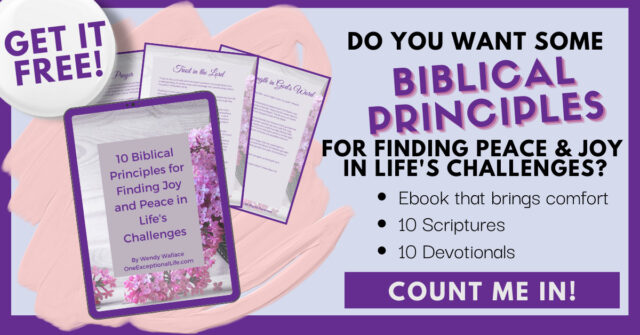 For some great, additional resources, you may also be interested in 26 Powerful and Effective Tips for Overcoming Hardships, 15 Bible Verses for when Life feels like a Roller Coaster Ride by Shanique from Rock Solid Faith and 18 Favorite Scriptures for Hard Times by Erin from Lullaby Lark.
Just remember, as my friend Diane from Worth Beyond Rubies says "God may not remove us from the trial, He may not remove us from the situation, He may not remove us from the problem, but He will be there with us in the midst of it. And He WILL get us through it if we place our faith in Him." Check out this great post of Diane's called Trusting God through trials in life – Where is God in my trials?
Now it's your turn. Please share your favorite Bible verses about overcoming obstacles. Where in God's Word do you turn when life gets tough? What have you learned and how has it helped you?
What are YOUR favorite Bible verses about life struggles?
Similar Posts: