The Importance Of Cultivating A Heart Of Gratitude (And How To Do It)
Articles may contain affiliate links. This means that if you purchase an item from my links, I may earn affiliate commission at no extra cost to you. As an Amazon Associate I earn from qualifying purchases.
All Scripture references come from the King James Version of the Holy Bible (KJV)."
What is a heart of gratitude?
On this blog, gratitude plays a huge role. At One Exceptional Life, our goal is to help you overcome your challenges through faith, gratitude, kindness and positivity. It's time to dig deeper into what it means to have a heart of gratitude. This great quote aptly sums things up.
"A grateful heart is one that finds the countless blessings of God in the seemingly mundane everyday life." Anonymous
For an official grateful heart meaning, I went to Dictionary.com, which gives us the following definition of grateful.  It is defined as "warmly or deeply appreciative of kindness or benefits received."
Living with a heart full of gratitude means that you find appreciation in everything around you. You look for blessings everywhere and you take time to stop and smell the roses every chance you get.
Where does a heart of gratitude come from?
If you think about it, isn't gratitude a choice? If I give you a cookie, you have two choices. You could say, "wow, I really appreciate that, thank you so much." Or you could respond with "give me that, I deserve it."
We develop gratitude as a child.  Our spiritual education, DNA, and society all contribute to our attitude of gratitude.  But I truly believe that a heart of gratitude comes from a heart of love.   
How do we feel when we're thankful for something? For me, gratitude makes me feel love and even more thankfulness to my Heavenly Father from which all blessings flow.
James 1:17 "Every good gift and every perfect gift is from above, and cometh down from the Father of lights, with whom is no variableness, neither shadow of turning."
Love comes from God. We may learn about love from our parents. But until you really understand agape love, which is the love of Jesus, you're really just scratching the surface of what it means to love.
John 3:16 "For God so loved the world, that he gave his only begotten Son, that whosoever believeth in him should not perish, but have everlasting life."
1 John 4:19 "We love him, because he first loved us."
How do you get a heart of gratitude?
Showing gratitude takes effort at times. When we are immersed in a busy day, it's often a struggle to stop and say thank you.
We have a choice to be thankful. We can choose to go to the dark side of negativity. Or we can choose to offer thanks. Thanks for every good gift. And thanks for the struggles. Because there's always a blessing in every struggle.
Developing a heart of gratitude very often comes as a result of the struggles that we have gone through.  Many times, we don't realize how blessed we are until we've lost something.
Think about it. My life is a perfect example. You'll get the big picture if you read how I became a quadruple amputee. But I don't have hands or feet. It was a struggle learning to live without some pretty necessary body parts.
But every day, and in every way, I have learned to be thankful for what I can do and for what I have.  I don't focus on what I don't have and what I can't do.  There's no point. Instead, I focus on my blessings. 
Very often I get that look from strangers that implies they're sad and feel bad for me. I never want that. I want everyone to know that I am so blessed, sometimes I can't contain my joy. I'm not sure I would have the same perspective if I hadn't gone through the illness that got me here.A grateful heart is one that finds the countless blessings of God in the seemingly mundane everyday life. Click To Tweet
1 Thessalonians 5:18 "In every thing give thanks: for this is the will of God in Christ Jesus concerning you."
Related Post: 6 Great Stories of the Power of Gratitude
Why is it important to have a heart full of gratitude?
Gratitude keeps us from discouragement and complaining.  Especially in the state of the world, we're living in today, we need a heart full of gratitude.   Not only does it help us keep our perspective in the right place, but it helps us in dealing with others.  It's so important to stay positive in a negative world.  Gratitude will help you do that.
So many people right now are angry and scared and they're lashing out. They are looking to point out everything that is wrong with the world. But our witness for Jesus is to show a heart of gratitude that is thankful for a close relationship with our Heavenly Father. That is where we get our peace through these dark times. Personally, I'm super thankful for that. So I'm going to show it. I suggest you do the same.
How do you practice gratitude?
Let me count the ways…
In prayer, give thanks to God

Share our gratitude with others

Talk about our blessings

Do gratitude, meaning because I am thankful for X, I want to do Y for you
When times get tough, I have found three things that have enabled me to get over the hump of my challenges. They are faith, naturally. But also gratitude is instrumental, and so is kindness. Keeping a positive mindset that is focused on the Lord, is the icing on the cake. It's the triple threat of overcoming your challenges. Let me introduce you to something that I created that will help you build your heart of gratitude.
The Joyful Living Toolbox
The Joyful Living Toolbox is for women who are struggling with fulfillment and happiness in their life. They need to build their heart of gratitude. This package of printables gives you the tools to help build your faith and gratitude. And when you add kindness and positivity to the mix, any obstacle can be overcome.
This isn't your ordinary gratitude journaling kit.  After years of trying to overcome every challenge all by myself, I have found that there are 3 key elements to focus on every day that will help us overcome the challenges we face in life.  They are:
? Gratitude
? Faith & Prayer
? Kindness to others
This is why the Joyful Living Toolbox is geared toward making that easier, saving you time by putting all the tools that you need in one handy place, right at your fingertips.  
It gives you the tools that will help you to…
? Grow your faith
? Increase your gratitude (so that the blessings are bigger than the obstacles)
? And serve others through kindness
All of this results in a positive mindset that will help you tackle any challenge, build a heart full of gratitude, and create a beautiful life filled with greater contentment and joy.
What happens when you practice gratitude?
The more thankful we are, the more thankful we are. (That's not a typo.) Think about it, though. Isn't that true? By focusing on gratitude, aren't you more aware of the blessings that surround you?
When I was thinking about how I wanted to address this topic, I was in the car (where I do a lot of talking to God.) I asked the Lord, "How do I grow a heart of gratitude?" The next thing I knew, I was finding something to be thankful to God for everywhere I looked. As I run through a few of these ideas, keep in mind that one thought led to another.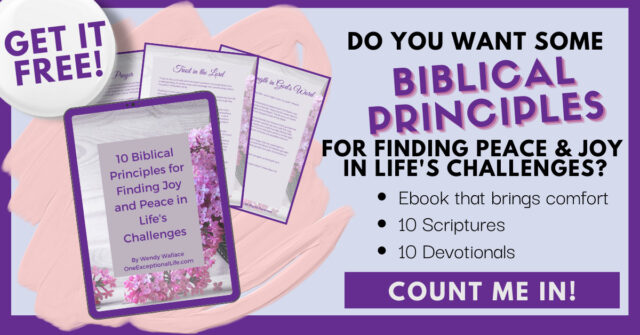 What did I find to be thankful for in a 10-minute drive?
Besides the obvious things we are thankful for, like family, health, and home, my goal was to create a list of what I saw and heard while I was in the car for less than 10 minutes.  Are you ready?
I was thankful for:
**The mountains, the sky, and the trees all created by an all-powerful God of the universe.
**Flowers are everywhere!  Can you imagine how many species of flowers exist on this planet?  Not to mention trees and weeds and grass.
**Living in the Northeast where the winters are long and cold, the many colors of green that are everywhere you look, now that summer is here.
**I had the radio on, and a commercial about heating and cooling aired. What a blessing to be able to have that warmth from the cold and air conditioning on the hot summer days.
**Of course, our home is a huge blessing.  What a privilege that my husband, Mike is healthy enough to work.  He has a job that supports our family, pays our bills, and puts food on the table.
**The road was paved by strong, able workers who have jobs that are essential to making the trip enjoyable. (I know what a hard, physical job paving is as I have family members who have done that.)
**Our neighbors have jobs that support them and provide for their housing.
Rather than continuing to list everything, I will end my heart full of gratitude rant with this thought. You can find something to be thankful for everywhere you look. You can also find blessings in every single challenge. All it takes is a little energy and effort. Be diligent to look for things to be thankful for. If you look, you will find that God's mercies are everywhere. The Bible tells us that His mercies are new every morning.
You can find something to be thankful for everywhere you look and in every single challenge. #heartofgratitude #thankyoujesus
Click To Tweet
Lamentations 3:22-24 "It is of the Lord's mercies that we are not consumed, because his compassions fail not. They are new every morning: great is thy faithfulness. The Lord is my portion, saith my soul; therefore will I hope in him."
Let me help you grow your heart of gratitude
Many people struggle with repetition when they are thinking of things to be thankful for. This free, printable calendar contains 40 idea prompts and is ready and waiting just for you.
What does the Bible say about gratitude?
Let's take a look at what God says about having a grateful heart.
1 Thessalonians 5:16-18 "Rejoice evermore. Pray without ceasing. In every thing give thanks: for this is the will of God in Christ Jesus concerning you."
1 Chronicles 16:34 "O give thanks unto the Lord; for he is good; for his mercy endureth for ever."
1 Corinthians 15:57 "But thanks be to God, which giveth us the victory through our Lord Jesus Christ."
Roman's 11:36 "For of him, and through him, and to him, are all things: to whom be glory for ever. Amen."
Psalm 9:1 "I will praise thee, O Lord, with my whole heart; I will shew forth all thy marvellous works."
Colossians 3:15-17 "And let the peace of God rule in your hearts, to the which also ye are called in one body; and be ye thankful. Let the word of Christ dwell in you richly in all wisdom; teaching and admonishing one another in psalms and hymns and spiritual songs, singing with grace in your hearts to the Lord. And whatsoever ye do in word or deed, do all in the name of the Lord Jesus, giving thanks to God and the Father by him."
In all three of these verses in Colossians, Paul is talking about gratitude to Christ.  Be thankful, sing with gratitude, and give thanks.  Without gratitude, it would be impossible to please Jesus, love, and serve Him as well as serve others. Even in the model prayer in Matthew 6, thankfulness is a necessary part.
Philippians 4:6-7 "Be careful for nothing; but in every thing by prayer and supplication with thanksgiving let your requests be made known unto God. And the peace of God, which passeth all understanding, shall keep your hearts and minds through Christ Jesus."
More Bible verses about a heart full of gratitude
If we want to imitate Christ (and we should) it's important to look at the examples that He gave. In the following verses, Jesus shows us how to have a heart full of gratitude.
John 6:5-11 Jesus gives thanks for the loaves and fishes
John 5:11 "And Jesus took the loaves; and when he had given thanks, he distributed to the disciples, and the disciples to them that were set down; and likewise of the fishes as much as they would."
John 11:38-44 Jesus thanked God for hearing His prayer about Lazarus.
John 11:41-42 "Then they took away the stone from the place where the dead was laid. And Jesus lifted up his eyes, and said, Father, I thank thee that thou hast heard me. And I knew that thou hearest me always: but because of the people which stand by I said it, that they may believe that thou hast sent me."
Mark 14:17-27 Jesus thanked God for the bread and the cup at the Lord's Supper.
Mark 14:22-23 "And as they did eat, Jesus took bread, and blessed, and brake it, and gave to them, and said, Take, eat: this is my body. And he took the cup, and when he had given thanks, he gave it to them: and they all drank of it."
A few closing quotes about having a grateful heart
"The thankful heart opens our eyes to a multitude of blessings that continually surround us." James E. Faust
"God has two dwellings; one in Heaven, and the other in a meek and thankful heart." Isaak Walton
"Worship comes from a thankful heart " Chris Tomlin
And finally, just remember…
"God gave you a gift of 86400 seconds today.  Have you used one to say thank you?" William Arthur Ward
How has having a heart full of gratitude made a difference in your life?  Looking for blessings where you least expect to find them, results in some pretty amazing things to be thankful for.  I encourage you to find the grateful heart meaning in your life.  What I mean by that is, what does having a grateful heart look like in your world?  Please share your ideas in the comments below. 
Do you have a heart of gratitude?
Similar Posts: