Does Life Really Begin Outside of Your Comfort Zone?
Articles may contain affiliate links. This means that if you purchase an item from my links, I may earn affiliate commission at no extra cost to you. As an Amazon Associate I earn from qualifying purchases.
All Scripture references come from the King James Version of the Holy Bible (KJV)."
Most of us tend to live in a bubble. We fall into patterns and routines that are comfortable for us. However, if we want to reach any goals or make any changes in our lives, we need to push our limits. Remember, life begins outside of your comfort zone. Why is pushing our limits important? Can I really improve? How do I step out of my comfort zone? Read on and we'll figure it out.
We talk a lot on One Exceptional Life about overcoming challenges. There are so many challenges thrown at us in this life. Sure, they could be little things like procrastination or figuring out a meal plan for your family for the week. But then bigger curveballs happen, like health, job, or financial problems. Whatever your challenge, if you want to move past it and grow, you need to push your limits and realize that the magic happens outside your comfort zone.
Life begins outside of your comfort zone
You've probably heard this phrase before. It all started with a famous quote that says, "Life begins at the end of your comfort zone," by Neale Donald Walsch. Whichever way you phrase it, doing the same thing over and over and over and expecting a different result, is the definition of insanity.
Without doing something different, you'll find yourself in a rut. But what happens then you're faced with a challenge or dilemma? This is where life gets interesting. Because it forces you out of the status quo. Life forces you to make some changes. But the really cool result of that is that you grow from it.
Trials are a part of life. Take a look at this Scripture from Romans.
Romans 5:3-5 And not only so, but we glory in tribulations also: knowing that tribulation worketh patience; And patience, experience; and experience, hope: And hope maketh not ashamed; because the love of God is shed abroad in our hearts by the Holy Ghost which is given unto us.
Trials, temptations, struggles and tribulations. They refine us, help us grow, and work to develop our spiritual maturity. And they are a part of life that begins outside of our comfort zone. But they are all for our benefit.
Roman's 8:28 And we know that all things work together for good to them that love God, to them who are the called according to his purpose.
What is your comfort zone?
Oxford Learners Dictionary defines the comfort zone as a place or situation in which you feel safe or comfortable, especially when you choose to stay in this situation instead of trying to work harder or achieve more.
Your comfort zone is a place of behavior where we spend most of our time. This is a place where our behaviors and activities are comfortable and there is no stress or fear of risk. It's our safe zone. You may feel comfortable in your job or your relationships. Having the same daily routine falls within your comfort zone. Getting out of your comfort zone means you're doing something that makes you nervous or raises your level of stress or anxiety.
But it doesn't have to hurt.  Oh sure, it will make you uncomfortable for a little while.  But as you begin to do things that push you out of that zone, you will blossom and grow.  Life begins and then gets better, outside of your comfort zone.
What are examples of a comfort zone?
Every morning I get up and have the same routine. Put legs on, go to the bathroom, get dressed, kiss hubby goodbye, make the same cup of coffee every day…yadda yadda yadda. Very rarely does my agenda change for my daily activities.
We make the same recipes, shop at the same grocery store, and watch the same TV shows.  Maybe you are working in a job you don't like but you won't ask for a raise or a promotion because it feels uncomfortable.  
I was asking my husband this morning what he thought we could do to move out of our comfort zone. He mentioned trying something new on the menu of our favorite Chinese restaurant. Eek!!! The horror!!! What if we don't like it? We get the same thing EVERY.SINGLE.TIME.
These are all examples of our comfort zone.  But living within this normal everyday rut makes you complacent.  Where there's no risk, there's no reward. I'm sure there are some really awesome meals on that Chinese menu.  It's probably time to make a change and expand our taste buds the next time we order out.
Magic happens outside your comfort zone
So why should you leave your comfort zone? Well, that's where the magic happens! I'll give you a great list of ideas to help you step out of your comfort zone later on in the post. But, what if you tried a new recipe or took a class, or talked to a stranger? Think of the blessings that could bring to your life.
When we are faced with challenges, we are forced to grow. That's actually a good thing. For instance, when I became a quad amputee, I had to learn to walk again and feed myself. I had to learn to accept help from others. Without being willing to make some changes, I would still be in a wheelchair. I would either starve or need someone else to feed me. And the list goes on.
But I took on those challenges. Today, when you see me, you wouldn't know I have prosthetic legs when I've got my jeans on because I walk just like you do. In fact, the only thing you might notice that's different about me is that I don't have hands.
But I shop, drive, hang out with my church family and do everyday things that everybody else does. When I tell you that the magic begins outside your comfort zone, I'm a living example. And so are you! Think about the last challenge you faced and overcame. How did you feel? Pretty awesome, I'm sure. And it's all by the grace of God that we make that magic outside of our comfort zone happen.
If it scares you, it might be a good thing to try. – Seth Godin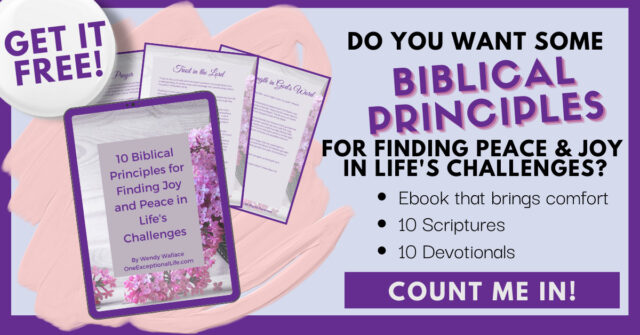 Can I improve my comfort zone?
Absolutely! And when you do, you will grow. You may find that initially, doing something outside of your comfort zone, will make you uncomfortable or anxious. But by continuing to push your comfort zone limits, that zone will grow and so will you.
How do we move out of our comfort zones? I would start with faith and prayer. Learn how to trust God with everything in your life. Take baby steps. Start with a small activity and go on from there. Who knows, before long you may be skydiving. But think of the rush that would provide.
Things to do to get out of your comfort zone
There are thousands of things that you can do to get out of your comfort zone.  It all starts with taking that first step. For some incentive, I've got some stepping-out-of-your-comfort-zone Bible verses below.  Start there and realize that every example starts with faith. 
Related Post: How to Grow Your Faith in God
Think about where your comfort zone is.  If your comfort zone is at home using technology or with the TV on, start by turning it off.  Is your workout routine stagnant, try something new, like taking a new class? What about your prayer life and Bible study?  Consider creating a custom War Binder for a powerful prayer life or try art journaling through the Bible.
Are you stuck in your job? Try asking for a raise or taking on some new job responsibilities. What about your marriage? Kick it up with some date nights and love notes. Do your friendships need some work? Make some extra effort by putting together a girl's night out or a pajama party.
As you can see, with a little ingenuity, the options are endless. Truly, these are just a few of the things to do to get out of your comfort zone. A more thorough comfort zone challenge is below. Just remember, that every time you step out of your comfort zone, the easier it gets.
Stepping out of your comfort zone Bible verses
As a Christian, I look to the Word of God for everything. Here are some of my favorite Bible verses regarding stepping out of your comfort zone.
Joshua 1:9 Have not I commanded thee? Be strong and of a good courage; be not afraid, neither be thou dismayed: for the Lord thy God is with thee whithersoever thou goest.
John 15:16 Ye have not chosen me, but I have chosen you, and ordained you, that ye should go and bring forth fruit, and that your fruit should remain: that whatsoever ye shall ask of the Father in my name, he may give it you.
Mark 16:15 "And he said unto them, Go ye into all the world, and preach the gospel to every creature."
Proverbs 3:5-6 Trust in the Lord with all thine heart; and lean not unto thine own understanding. In all thy ways acknowledge him, and he shall direct thy paths.
Philippians 4:13 I can do all things through Christ which strengtheneth me.
2 Timothy 1:7 For God hath not given us the spirit of fear; but of power, and of love, and of a sound mind.
Philippians 1:6 Being confident of this very thing, that he which hath begun a good work in you will perform it until the day of Jesus Christ:
Jeremiah 29:11 For I know the thoughts that I think toward you, saith the Lord, thoughts of peace, and not of evil, to give you an expected end.
I would love to hear your thoughts on these scriptures.  Do you know of any other stepping out-of-your-comfort-zone Bible verses?  If so, please share below in the comments.
Examples from the Bible of stepping out of your comfort zone
There are many examples of Bible characters who took that leap of faith and followed God outside of their comfort zone. Abraham (his story starts in Genesis 11), Joshua, Joseph (his story starts in Genesis 37), Hosea and so many others.
Genesis 12:1-3 Now the Lord had said unto Abram, Get thee out of thy country, and from thy kindred, and from thy father's house, unto a land that I will shew thee: And I will make of thee a great nation, and I will bless thee, and make thy name great; and thou shalt be a blessing: And I will bless them that bless thee, and curse him that curseth thee: and in thee shall all families of the earth be blessed.
Of course, we are called by Jesus, as baptized believers of His New Testament churches to step out on faith as well.  Our job as disciples of Christ is to share the Gospel with everyone, grow the church, and make disciples of new believers.
Matthew 28:18-20 And Jesus came and spake unto them, saying, All power is given unto me in heaven and in earth. Go ye therefore, and teach all nations, baptizing them in the name of the Father, and of the Son, and of the Holy Ghost: Teaching them to observe all things whatsoever I have commanded you: and, lo, I am with you always, even unto the end of the world. Amen.
Comfort zone challenge
The bottom line is, you don't just fall into a great life, you have to create it. I have put together this great comfort zone challenge that consists of 75 different things that you can do to push your limits to find out really if life begins outside of your comfort zone. I challenge you to pick one thing each day that will take you out of your comfort zone.
There's a big variety in this comfort zone challenge.  Some activities have minimal risk, like trying a new recipe.  Others, like skydiving and ziplining, are more aggressive. You don't have to do everything on this list.  Just pick something every single day. Then you'll see how much magic happens outside your comfort zone. Are you ready?
75 great ideas to push your limits and help you get out of your comfort zone.
Order something new at your favorite restaurant
Compliment a stranger
Go to lunch by yourself
Go to a networking event
Try a new recipe
Eat breakfast for dinner
Eat dinner for breakfast
Go without makeup
Go horseback riding
Take a new class
Join a book club
Buy a coffee for the car behind you
Buy lunch for a service member – Thank them for their service
Try a new restaurant
Take a class to learn something new
Set an outrageous goal, then take the necessary steps to accomplish it
Ask for a raise
Take a new way home
Shop at a new grocery store
Dress up, go to a car dealership and test drive a fancy car
Get a pedicure
Go skydiving
Change up your coffee for the day (new flavor or creamer)
Splurge on a restaurant outside of your budget
Don't shave your legs for a week or month
Try ziplining
Watch a movie or TV show in another language
Play bingo
Hire a photographer – pretend you're a model
Crash a wedding
Buy lunch for a homeless person
Learn to play an instrument
Work in a soup kitchen
Stand up for yourself
Take a mental health day from work or school and do something fun
Get to know someone new
Email or tweet a famous person
Go without technology for a day, a week, a month!
Take a dance class
Go on a day trip-just start driving to see where you end up
Get intentionally lost, then try to find your way home without GPS
Learn a new language
Change your routine
Take a pottery or art class
Become a mentor
Join Toastmasters
Start a blog
Roll down your car window, crank up the tunes and sing to whoever will listen
Sing karaoke in public
Confront someone
Strike up a conversation with a stranger
Say no!
Get up 1 hour earlier or stay up 1 hour later
Watch a type of program you don't normally watch
Tackle one of your fears
Leave a positive note on someone's car
Don't make the safe choice
Take a college course
Be extra honest with someone
Make 3 new friends online
Take the stairs
Park farther away
Help a stranger
Learn a new word and start using it regularly
Give up something you love for a week
Start a side hustle
Try food from a different country
Repair a broken relationship
Try bungee jumping
Break a habit
Learn about something that makes you uncomfortable
Go to a big city and be a tourist
Say hello to everyone you see for the day
If challenges are your thing, check out the following related posts.
Related Challenge Posts:
40 Day Gratitude challenge: Count Your Blessings
30 Day Positivity Challenge: Explode Your Optimism
What is True Happiness? ( + a 30 Day Happiness Challenge)
There you have it! I hope and pray that you will take the baby steps that you need to push your limits and discover just how much life begins outside of your comfort zone.
Are you ready to grow out of your comfort zone? Where will you start? Pick a couple of ideas from the comfort zone challenge and let me know. Just so you know, I'll be growing alongside you. Are you ready? Let's go!
Similar Posts: