15 Powerful Bible Verses About Encouraging Others
Articles may contain affiliate links. This means that if you purchase an item from my links, I may earn affiliate commission at no extra cost to you. As an Amazon Associate I earn from qualifying purchases.
All Scripture references come from the King James Version of the Holy Bible (KJV)."
What Does the Bible Say About Encouraging Others?
Encouraging others says a lot about someone. Are you someone who can be counted on to encourage others daily? Or are you the type of person who brings others down? As Christians, we want to serve others and behave as Christ-like as we possibly can. That means showing love wherever we can. It's our job to comfort one another.
The Word of God is our go-to source for living a Godly life. So as I share these 15 Bible verses about encouraging others, let's see what Jesus thinks. How do you feel about encouragement? When someone tries to lift you up, how does that make you feel? What is your goal in being kind to someone else?
We're going to break things down and answer those questions. But first, let's define what encouragement truly is.
What is Encouragement?
The Oxford Dictionary defines encouragement as a) The action of giving someone support, confidence or hope, as in, "thank you for all your support and encouragement". And b) Persuasion to do or to continue something, as in incentives and encouragement to play sports or have faith. If you want to know how we can encourage one another, think along these lines:
Support

Hope

Comfort

Reassurance

Consolation

Stimulus

Helpfulness

Motivation

Inspiration

Leadership
In my eyes, that looks like love! Showing the love of Jesus is a great way to comfort one another and be encouraging toward others. I'm not sure why I have such a natural tendency to encourage, motivate and support others. I've always wanted to be that person. You know, the hero for the wounded and downhearted. But as Christians, it should be part of our makeup.
Encouragement through Victory Over Affliction
I wrote an ebook called Victory Over Affliction: 30 Mindset Challenges to Motivate You. I like to refer to it as the cheerleader that gives you a really great pep talk every time you need some encouragement in your life. I start with one of my favorite quotes about overcoming challenges, followed by my personal experience as a quad amputee. I weave my stories and experiences into a daily devotional on applying that quote to create success in any challenge. It's a great, encouraging resource, plus it makes a great gift.
You can find Victory Over Affliction right here. But if you love value, I recommend grabbing either the Gratitude Calendar (at the top of each page) or the How to Get Closer to God ebook (later in this post) because brand-new subscribers to this blog are given a super special discount. ? As a child of God, we are to love one another. We are to uplift, comfort, help and guide others. That is why we seek out bible verses to encourage others. They give us the motivation to reach out and inspire.
How to be Encouraging?
Jesus left us with instructions for living. We are to love God first. And then we are to love one another the way that Jesus loves us. The best way to show our Christian love is by encouraging others. It's our job to comfort and to be there for each other. Plus showing that love shows the world that we are followers of Christ. It's one way to share our witness. And it helps us get a foot in the door to share the Gospel.
The book of Peter tells us to always be ready to share the Gospel. But make sure you're living close to the Lord because if you aren't living the Gospel, then how are you encouraging others to ask where your faith and positivity come from?
But sanctify the Lord God in your hearts: and be ready always to give an answer to every man that asketh you a reason of the hope that is in you with meekness and fear:" 1 Peter 3:15
Bible Verses About Caring for Others in Need
I have found that through my own personal struggles, I have gained the experience that I need to share what I've learned. This makes sense. Because don't you find more value in someone who has been through something similar and knows what you're going through? I know I do! Plus Scripture gives us that confirmation as we see here. Here is a great example of an encouraging others bible verse!
Who comforteth us in all our tribulation, that we may be able to comfort them which are in any trouble, by the comfort wherewith we ourselves are comforted of God. 2 Corinthians 1:4
Basically, the Scripture says that Jesus comforts us while we have struggled so that we can comfort others. I'll use my cancer experience as an example. Twenty years ago, I went through my own personal battle with breast cancer. My experience with chemotherapy, radiation, a double mastectomy, reconstruction, and an accompanying hysterectomy gives me the life experience to relate to others in any of those trials.
If you have never had cancer, it's that much more difficult to relate. But since I understand what a cancer patient goes through, I can be a great comfort to that person. Make sense?
Bible Verses about Encouraging Others
In the following verses in Romans, I love how first Paul lifts the Romans up. He praises them for their faith. He tells them that he's praying for them and that he can't wait to see them. He wants to give them spiritual gifts to strengthen them so that as a group they can comfort one another. How wonderful is that? Another great example of verses to encourage others.
First, I thank my God through Jesus Christ for you all, that your faith is spoken of throughout the whole world. For God is my witness, whom I serve with my spirit in the gospel of his Son, that without ceasing I make mention of you always in my prayers; Making request, if by any means now at length I might have a prosperous journey by the will of God to come unto you.
For I long to see you, that I may impart unto you some spiritual gift, to the end ye may be established; That is, that I may be comforted together with you by the mutual faith both of you and me." Roman's 1:8-12
Paul is writing to strengthen the Christians and for the encouragement of others in Rome. He's reminding them of the encouragement of others that comes by sharing love with their brethren of faith. Think about someone who has a super strong faith.
One of my closest friends has been going through some pretty serious health issues during the last couple of years. But her story of Faith and Healing has not only lifted my family and me but she's been a huge source of encouragement to our entire church. Here is another example in Paul's letter to Philemon, where he praises him for his love and faith.
I thank my God, making mention of thee always in my prayers, Hearing of thy love and faith, which thou hast toward the Lord Jesus, and toward all saints; That the communication of thy faith may become effectual by the acknowledging of every good thing which is in you in Christ Jesus. For we have great joy and consolation in thy love, because the bowels of the saints are refreshed by thee, brother." Philemon 1:4-7
Bible Verses to Encourage Others
Part of encouraging others is sharing your love of God. The Word of God has many Bible verses about encouraging others.
Beloved, let us love one another: for love is of God; and every one that loveth is born of God, and knoweth God." 1 John 4:7
Wherefore comfort yourselves together, and edify one another, even as also ye do. 1 Thessalonians 5:11
Let no corrupt communication proceed out of your mouth, but that which is good to the use of edifying, that it may minister grace unto the hearers. Ephesians 4:29
And let us consider one another to provoke unto love and to good works: Not forsaking the assembling of ourselves together, as the manner of some is; but exhorting one another: and so much the more, as ye see the day approaching. Hebrews 10:24-25
And the Lord make you to increase and abound in love one toward another, and toward all men, even as we do toward you: 1 Thessalonians 3:12
We then that are strong ought to bear the infirmities of the weak, and not to please ourselves. Roman's 15:1
KJV Bible Verses on Encouraging Others
Preach the word; be instant in season, out of season; reprove, rebuke, exhort with all long suffering and doctrine. 2 Timothy 4:2
If there be therefore any consolation in Christ, if any comfort of love, if any fellowship of the Spirit, if any bowels and mercies, Fulfil ye my joy, that ye be likeminded, having the same love, being of one accord, of one mind. Let nothing be done through strife or vainglory; but in lowliness of mind let each esteem other better than themselves. Look not every man on his own things, but every man also on the things of others. Let this mind be in you, which was also in Christ Jesus: Philippians 2:1-5
Now we exhort you, brethren, warn them that are unruly, comfort the feebleminded, support the weak, be patient toward all men. See that none render evil for evil unto any man; but ever follow that which is good, both among yourselves, and to all men. 1 Thessalonians 5:14-15
Let every one of us please his neighbour for his good to edification. Romans 15:2
My little children, let us not love in word, neither in tongue; but in deed and in truth. 1 John 3:18
How Can We Build Each Other Up?
Truly, it doesn't take much to reach out and impact someone when they need you. Call a friend when they're down, send a card, or give them a hug. It's as simple as that! If you don't think you have the encouragement gift, I'll give you some ideas. So keep reading.
Are you the type of person who brings others down? Why do you think that is? I want to encourage you to pause before you speak. If you don't have something nice to say, please keep it to yourself. That in itself can be helpful to the person you're with. Especially if negative comments are the norm for you.
What Does the Bible Say About Encouragement by Others During Hard Times?
God is our go-to when we fall in hard times. But it's imperative that we lean on our family and brothers and sisters in Christ to be lifted up as well. Remember 1 Thessalonians 5:11 which reminds us to edify one another? Scripture tells us to build each other up, rather than discourage or bring others down.
We need our church brethren and the love and support they provide. So many times, we attend church on Sunday mornings and that's it. But God wants our church family to be just that, family. I'm so thankful that we have that in our church. We are family. We fellowship together outside of services. We pray for each other and comfort one another in times of hardship.
I know that at any given time I can call anyone in my church and they will be there for me. We all give each other the encouragement that we need. That would not be the case if we didn't assemble together regularly like we are told in Hebrews.
And let us consider one another to provoke unto love and to good works: Not forsaking the assembling of ourselves together, as the manner of some is; but exhorting one another: and so much the more, as ye see the day approaching. Hebrews 10:24-25
Be sure to check out one of our most popular posts of 2020, which offers you 15 practical and simple daily habits that will help you Get Closer to God Spiritually. This blog post is great for any of those times when you are needing your own source of spiritual encouragement.
Bible Verses About Encouraging One Another
We can be encouraging to others by simply putting their needs before ours. Ask yourself, "what does this person need most from me?" Then give it to them. You can build each other up with a simple compliment, or simply by listening to them. You can even give them some of these KJV Bible verses on encouraging others that I'm sharing with you.
What about a Bible study on encouraging one another? Helping others find encouragement in the Word of God is a great way to lift someone up. Sometimes they just need someone to listen. Many times they don't want your help, they just need to talk. So give that to them.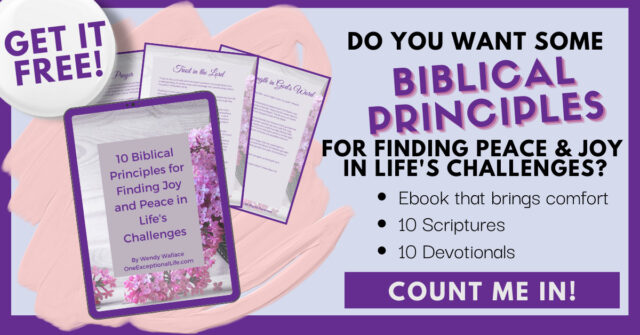 Encourage One Another Daily
Giving others encouragement is important for living out your faith. But more importantly, building each other up is so necessary while living in this sin-cursed world. There is so much negativity everywhere we look. So a kind word or gesture truly makes all the difference. Remember what Paul says here:
But exhort one another daily, while it is called To day; lest any of you be hardened through the deceitfulness of sin. Hebrews 3:13
Sin steals so much from our lives. It impacts our joy, it causes illness, stress, and suffering. But mostly it weakens our faith. So is encouraging others important? My friend, it's truly VITAL! Seek the Scriptures for the best short Bible verse about encouraging others, the best source for powerful wisdom you can find. #bibleverses #encourageeveryone Click To Tweet
KJV Bible Verses About Encouragement
We are tested in order to grow our faith. So glory in those trials, which are much more precious than gold. Because at the appearance of Jesus, you will be rewarded. What a blessing that will be!
Wherein ye greatly rejoice, though now for a season, if need be, ye are in heaviness through manifold temptations: That the trial of your faith, being much more precious than of gold that perisheth, though it be tried with fire, might be found unto praise and honour and glory at the appearing of Jesus Christ: Peter 1:6-7
Creative Ways to Encourage Others
Remember, it's not about big gestures. It's all about filling a need in the lives of those around you. You can make such a difference if only you pay attention and seek out the needs of others. It's easy to encourage others if you simply show them you love them. You will never regret being kind. Even on those days when it's a struggle, show your kindness.
If you are looking for creative ways to encourage others, keep reading. I look at encouragement as different ways to lift someone's spirits or support them in their efforts to get through the day or accomplish a goal.
Give a pep talk when someone's confidence is down.

Praise a child when they are doing well in school.

Cook a nice meal for your spouse after a long day at work.

Visit with a sick friend.

Let someone know you are praying for them.

Reward your pet after a job well done.

In the blogging world, positive comments after a blog post or a social media post is always welcomed.

Pick up the phone and call.

Share an article that reminds you of them.

Let them know you're thinking of them.

Let them know you're praying for them.

Offer to help where you see a need.

Compliment people as they serve you. Is your cashier friendly and smiling? Tell her what a nice smile she has and that you appreciate her.

Hug someone if they need some love.

Let them know how much you appreciate them.

Show others the positive side to a negative situation.

Comfort one another.

Praise the efforts of others.

Remind them of what they mean to you.

Send flowers during a tough time.

Bake something for them.

Be a good listener.

Compliment something they've done.

Share their work with others.

Smile!

Most of all, build each other up!
These are just a few examples. But I think you get my point. I see encouragement as anything that makes someone smile. If it prompts you to say thank you, it's probably an encouraging action.
For more creative ways to encourage others, here are 105 of the Best Random Acts of Kindness. It's great to encourage strangers too. Because you never know when someone needs a boost in their day. I think that when you seek to encourage and inspire everywhere you go, you will be a great blessing to others.
Biblical Quotes About Encouraging Others
I realize that this post is about Bible verses to encourage others. But many times, you can look at a Scripture and pull some great ideas for the actual words to say. For instance, if you feel as though you don't really have what it takes to fulfill a task that the Lord has asked you to do, I would reply with this first quote.
This is just another great way of encouraging one another with the Word of God. Note: the following are quotes taken from Scripture. You may even call them Biblical affirmations. But they're not the actual Scriptures.
God has equipped you for everything that you need, to do what He has called you to do. Hebrews 13:21
Be ye kind and tenderhearted to others. You forgive them as God in Christ has forgiven you. Ephesians 4:32
God has not given you a spirit of fear; He gives you power, love and a sound mind. 2 Timothy 1:7
The Lord has chosen you for Himself as His special treasure. Psalm 135:4
Trust in the Lord with all your heart and lean not unto your own understanding. In all ways acknowledge Him and He shall direct your paths. Proverbs 3:5-6
You are fearfully and wonderfully made. Psalm 139:14
You don't need to worry because Jesus offers a peace this world cannot give. Philippians 4:7
For more ideas on how to be encouraging, check out 52 Practical and Thoughtful Ways to Encourage Others. You may also find encouragement in Feedspot's Top 50 Positivity Blogs, Websites & Influencers in 2023, Where you'll find One Exceptional Life listed as #32, for which I'm extremely thankful.
I pray that you have found some great encouragement in this post and in my collection of KJV Bible verses on encouraging others. What is your favorite way to show encouragement? How has someone recently encouraged you?
Share your thoughts or ideas of ways that you enjoy encouraging others in the comments below.
What is a Good Short Bible Verse about Encouraging Others?
Similar Posts: