50 Beautiful Choosing Joy Quotes to Brighten Your Day
Articles may contain affiliate links. This means that if you purchase an item from my links, I may earn affiliate commission at no extra cost to you. As an Amazon Associate I earn from qualifying purchases.
All Scripture references come from the King James Version of the Holy Bible (KJV)."
Are you joyful?  Do you have that deep in your soul feeling that everything will be okay regardless of your circumstances? I'm not talking about happiness.  That's different. But we all need joy. Because when you choose joy, you will have a completely different perspective on life. It's a wonderful perspective. You want that, don't you?
I have compiled a great list of quotes to remind you that a joy-filled life makes all the difference.  I have choosing joy quotes, Bible quotes about joy and spiritual quotes about joy. So by the time that you finish reading through this list, I am sure that you will be so overwhelmed by reminders of the need for joy in your life.
What is the difference between happiness and joy?
It's important to make a distinction here between happiness and joy.   Because there is a very clear difference between the two. Happiness is a surface level emotion that can change at the drop of a hat.  You may be having a great day, but when somebody cuts you off in traffic, suddenly your mood has changed from happy to grumpy. Happiness can change just like that.
Related post:  What is True Happiness ( + a 30 Day Happiness Challenge) 
Joy, on the other hand, comes from the Lord.  It lives deep inside you and is an internal emotion that does not change because of your circumstance.   When you have accepted Jesus as your Savior, you feel more joy than at any other time in your life.  That is because you know your eternal destiny is secure with Jesus.  He also gives you the peace that passes all understanding. This is the peace that keeps you calm no matter what is going on around you.
Psalm 16:11 says "Thou wilt shew me the path of life: in thy presence is fulness of joy; at thy right hand there are pleasures for evermore."
Roman's 15:13 "Now the God of hope fill you with all joy and peace in believing, that ye may abound in hope, through the power of the Holy Ghost."
Philippians 4:7 "And the peace of God, which passeth all understanding, shall keep your hearts and minds through Christ Jesus."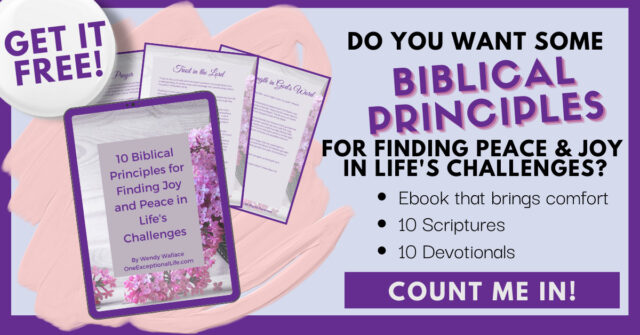 What is sorrowful joy?
I have experienced two episodes of a life-threatening illness.  Yet, I still had joy in my heart. This is what is known as sorrowful joy.  I can go through pain and suffering. But because I have faith in Jesus, He comforts me.  He gives me the strength and courage to go through my trials. And as I go through tribulation, He is right there with me, holding my hand every step of the way.  That gives me joy. I may be sad, but I have joy from the Lord.
Related post:  The Ultimate Guide to Find Joy in the Journey 
So let's dig into some great choosing joy quotes and Bible quotes to remind you to choose joy.
Choosing Joy Quotes
"You will find a joy in overcoming obstacles." Helen Keller
"He who has not looked on Sorrow will never see Joy." Kahlil Gibran
"My brethren, count it all joy when ye fall into divers temptations;  Knowing this, that the trying of your faith worketh patience." James 1:2-3 KJV
"If you have no joy, there's a leak in your Christianity somewhere."  Billy Sunday
"Joy does not simply happen to us. We have to choose joy and keep choosing it every day." Henri Nouwen"
"Seek to cultivate a buoyant, joyous sense of the crowded kindnesses of God in your daily life." Alexander MacLaren
"A joyful heart is the normal result of a heart burning with love." Mother Teresa
"The only lasting and fully satisfying joys for any man lie on the other side of a cross."  Walter J. Chantry
"The Word of God is the source of man's strength, wisdom and joy."  Janet Fuller
"Where there is love, there is joy." Mother Teresa
"Prayer changes us in ways that we never thought would be possible. When we are unhappy, prayer can lift our hearts and fill it with unspeakable joy." Julia Bristol
"The hope of the righteous shall be gladness: but the expectation of the wicked shall perish."  Proverbs 10:28 KJV
"If you're a follower of Jesus, joy should be a way of life. Why? You've been completely forgiven – no guilt, no shame, no remorse, and no regrets. God has wiped them all out. Sounds like a good reason for joy to me." Rick Warren
"How divinely full of glory and pleasure shall that hour be when all the millions of mankind that have been redeemed by the blood of the Lamb of God shall meet together and stand around Him, with every tongue and every heart full of joy and praise! How astonishing will be the glory and the joy of that day when all the saints shall join together in one common song of gratitude and love, and of everlasting thankfulness to this Redeemer! With that unknown delight, and inexpressible satisfaction, shall all that are saved from the ruins of sin and hell address the Lamb that was slain, and rejoice in His presence!"  Isaac Watts
"You may be lonely, poor, and cold, neglected by the children, forgotten by your friends, yet may have the glad Christmas joy in your heart as Paul had, shut up in prison cells at Rome!" John R. Rice
"It is not joy that makes us grateful. It is gratitude that makes us joyful." Anonymous
"Joy is a choice based on being content regardless of circumstances. Understanding what encourages joy in your life can help you cultivate it and build up your resources for when circumstances are difficult." M. Ahlers
Bible Quotes About Joy
"Go find your joy. Whatever that is, go find your joy. Are you going to have a good day or are you going to have a great day? Because it's completely up to you." Sandra Bullock
"The walls we build around us to keep sadness out also keeps out the joy." Jim Rohn
"Sorrow does not take away, but adds to the Christian's joy."  Lester Roloff
"Whom having not seen, ye love; in whom, though now ye see him not, yet believing, ye rejoice with joy unspeakable and full of glory: Receiving the end of your faith, even the salvation of your souls."  1 Peter 1:8-9 KJV
"Joy is best sown in broken ground."  Jack Wellman
"Find joy in the ordinary."  Max Lucado
"Comparison is the thief of joy." Theodore Roosevelt
"The reality is that this is how you know if you're getting closer to God: more kindness, more gentleness, more joy, more peace, more patience." Matt Brown
"Find joy in the journey." Anonymous
"Joy is distinctly a Christian word and a Christian thing. It is the reverse of happiness. Happiness is the result of what happens of an agreeable sort. Joy has its springs deep down inside. And that spring never runs dry, no matter what happens. Only Jesus gives that joy. He had joy, singing its music within, even under the shadow of the cross."  S.D. Gordon
"The Lord gives his people perpetual joy when they walk in obedience to him."  Dwight L. Moody
"A joyful life is made up of joyful moments gracefully strung together." Brene Brown
"Now the God of hope fill you with all joy and peace in believing, that ye may abound in hope, through the power of the Holy Ghost."  Roman's 15:13 KJV
"To be joyful is a principle. It doesn't change with emotions. Joy is an inner contentment despite all the circumstances." Richard Daly
"No one can get Joy by merely asking for it. It is one of the ripest fruits of the Christian life, and, like all fruits, must be grown."  Henry Drummond
"There is no joy in the world like the joy of bringing one soul to Christ."  William Barclay
"The most wasted of all days is one without laughter."  Nicolas Chamfort
Spiritual Quotes About Joy
"Joy is the serious business of Heaven."  C. S. Lewis
"If you can't find joy in the path you are on and what you are working toward now, how do you expect to find joy once you get there?" Anonymous
"Find out what gives you joy and do it." Anonymous
"For the kingdom of God is not meat and drink; but righteousness, and peace, and joy in the Holy Ghost."  Roman's 14:17 KJV
"We all have battles to fight. And it's often in those battles that we are most alive: it's on the frontlines of our lives that we earn wisdom, create joy, forge friendships, discover happiness, find love, and do purposeful work." Eric Greitens
"Looking unto Jesus the author and finisher of our faith; who for the joy that was set before him endured the cross, despising the shame, and is set down at the right hand of the throne of God."  Hebrews 12:2 KJV
"Find a place inside where there's joy, and the joy will burn out the pain." Joseph Campbell
"Joy is not in things; it is in us." Richard Wagner
"Find joy in everything you choose to do. Every job, relationship, home. It's your responsibility to love it, or change it." Chuck Palahniuk
"The joy we feel has little to do with the circumstances of our lives and everything to do with the focus of our lives." Russel M. Nelson
"Joy is untouched by circumstance." Anonymous
"For the Christian, joy in God is available at all times, in any situation." Wayne Davies
"The healthiest response to life is joy." Mark Twain
".. it's more blessed to give than to receive is not some moral nostrum … but a prescription for authentic joy." Marc Ian Barasch
"Joy and positive thinking are powerful tools for living well." Cyndie Spiegel
"Pray for your ability to share your joy with others and be a light in this world." Kathryn Shirey
Related Post:  20 Inspiring Bible Verses for Happiness and Joy 
And my Final Choosing Joy Quote is…
"Think joy, talk joy, practice joy, share joy, saturate your mind with joy, and you will have the time of your life today and every day all your life." Norman Vincent Peale
What a great way to wrap up reminding you that choosing joy is the only way to have peace, love and comfort in your life.  The result of that is that you will have the love in your heart that is commanded by Jesus. Remember, He wants us to love God first,  then love everybody else second.
That special love of Christ creates desire in our hearts to serve others.  Start with encouragement.  Putting others first is the best way to serve.  Then the more you serve, the more joy you have. It's a beautiful circle.  
Are you joyful?  Do you have that deep in your soul feeling that everything will be okay regardless of your circumstances?  What are you doing now to nourish joy in your life? Do you have any favorite spiritual or choose joy Bible verse suggestions?  Please be sure to join in the conversation. Share your comments below.
***All Scripture comes from the King James Version of the Holy Bible
Similar Posts: