How to Overcome the Anniversary Effect
Articles may contain affiliate links. This means that if you purchase an item from my links, I may earn affiliate commission at no extra cost to you. As an Amazon Associate I earn from qualifying purchases.
All Scripture references come from the King James Version of the Holy Bible (KJV)."
When you go through a traumatic situation, you may find yourself reliving that trauma regularly.  This annual trauma is known as the anniversary effect. Also known as the anniversary reaction, its a type of PTSD or post-traumatic stress disorder that can happen yearly or monthly.  I've also heard it explained as an annual echo of a trauma.
The cause of my Anniversary Effect
I bring this topic up because I have been suffering with it for the last 7 years.  In 2011, I contracted a flesh-eating bacteria that put me in a coma for three months and threatened to end my life.  Without the amputations of both hands and both feet, I would not be alive to share my story with you on this blog.
Doctors were telling my family that I had no chance of survival.  If you're doing the math, it's actually been eight years since my illness, but I've only suffered for seven. I will get to that later. To read my entire story, hop over to my About Me page.
It was very difficult for me to rebound from my old life to my new life under my new circumstances.  Without hands, I found so many limitations, that I was struggling to be productive. My family and I created the tools and schedule that I needed to be independent while I was alone during the day.  But I limited myself. I prayed continuously for the Lord to show me what I was supposed to do with my new life, but I wasn't feeling my prayers being answered.
I was clearly thankful for the answered prayers that I was an almost fully-functioning adult without hands.  However, I was depressed. I wasn't depressed in a horrible way, but I wasn't happy. I would sleep a lot and watch tv and I didn't want to try new things because I didn't feel capable without my hands.  That was my regular life.
However, every single year around the third or fourth week of March I would get really weepy.  It would last for two or three weeks and then it would go away. Two events happened in my life around these dates.  On March 14th, 2002, my mom passed away from cancer. Then, on April 4th, 2011 I was admitted to the hospital with a flesh-eating bacteria, and I didn't return home until June 17th of that year.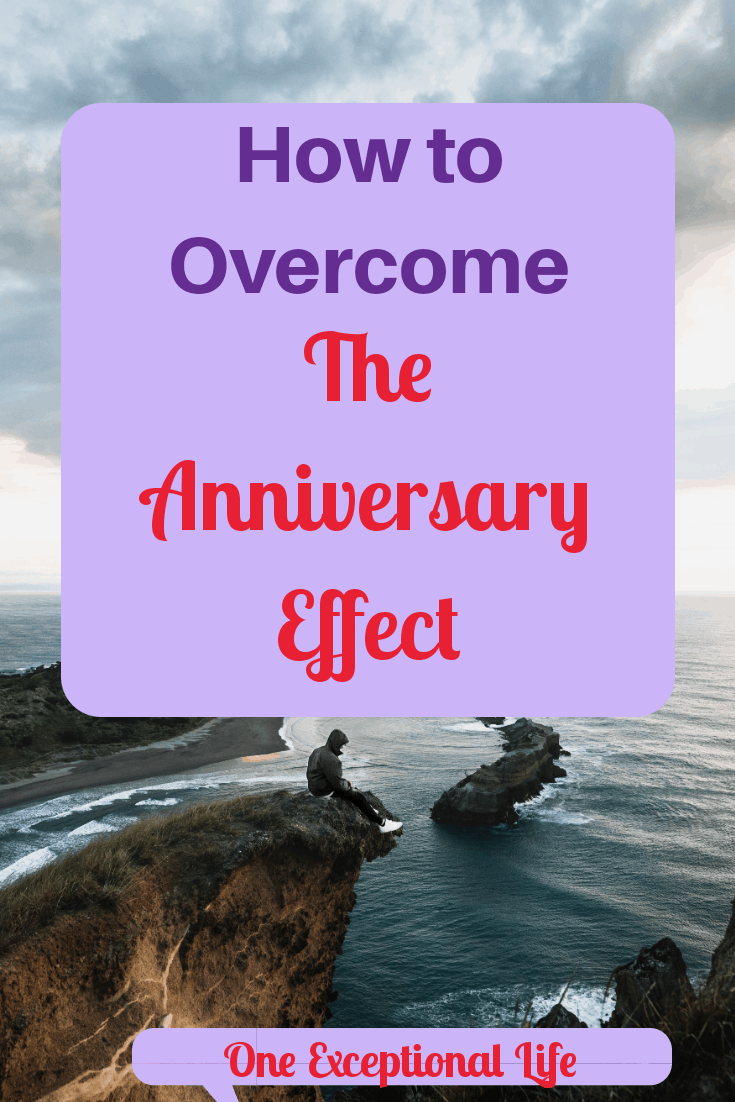 My additional sadness wasn't due to me paying attention to the calendar.  It was my body's internal clock remembering what had happened in previous years.  It's the darndest thing! Then a couple of years ago I read an article about the anniversary effect and then it all made sense.
When you have questions or struggles in your life, there are two places we turn to.  The first is to Google and the second is to the Bible, although it really should be the other way around.  Nevertheless, we are searching for information. What is going on? Why is this happening to me? How do I get through it?  Lord, please show me the way out of this funk!
In my research, I found several articles that talked about the anniversary effect.  One article defined the Anniversary Effect "as a unique set of unsettling feelings, thoughts or memories that occur on the anniversary of a significant experience."  It happens at a memorable date or time in your life that is disturbing and causes you pain. If you would like to read more about it, visit Psychology Today  The article also offers solutions when trying to cope.
How to overcome with the Anniversary Effect
For me, knowing why I was getting down in the dumps and weepy and that it was temporary was really helpful.  My family was very supportive. My husband let me cry through things as I needed to. We tried to redirect my thoughts by getting out of the house and being more active.
The eighth year
This brings me to the eighth year that I mentioned earlier.  Next week marks the eighth anniversary of my illness and I have absolutely no symptoms of depression.  I am absolutely amazed at my results. Nine months ago, I made a life change. I decided to step outside of my comfort zone and share my story with all of you.  This blog has created in me a new level of activity that I haven't seen since before I got sick. Running a blog keeps me busy from sunup to sundown and beyond.  Not only do I write the blog posts, but I have to promote my new posts on social media.
I have made a bunch of new friends, who are all of the Christian faith.  I'm following more Christian blogs and am studying more about Jesus. I am busier and I am praying and studying more so my mind and body are focused on different, better things.  I no longer focus on things like depression and sorrow.
Answered Prayer
Remember, I had been praying that the Lord would show me how to carry on? This blog has become my witness. It's my way to inspire others and share my testimony. Isn't that awesome? God answered my prayer!
I cannot tell you what a relief it is to have such a horrible burden lifted from my heart and mind.  Now that's not to say that what has worked for me, will be exactly what you need. But if you focus on the Lord and more activity, you may get the same results as I did.  I would love to hear your results.
Is there a problem in your life that is difficult to let go of? One in which you just can't move forward?  Just remember, my favorite Bible verses have always helped me and I trust they will help you too.  Proverbs 3:5-6 tells us to "Trust in the Lord with all thine heart and lean not unto thine own understanding.  In all thy ways acknowledge him and he shall direct thy paths."
If you find that you're struggling with your trauma, remember that you're not alone. Talk to someone.  Pray with your pastor and your family. Also, trauma and loss affect each of us differently, so don't put a time limit on your grief.  I wish I could tell you that eight years is your magic number, or five or two. You may struggle indefinitely. I don't know. However, I wanted to share my story with the hope that you may find inspiration and hope.
Speaking of inspiration and hope, I hope you will check out my Amazon recommendations for you this week.  All four books have been written by Christian friends of mine and will lift you up and encourage you.  I appreciate your love and support in this blog.  If you aren't yet a subscriber, please go to my testimonials page which will give you information on my free 5-day E-Course called the Daily Dose of Inspiration that you will receive once you subscribe.   I know that you will love it!
Similar Posts: